2020 USAT FLORIDA STATE CHAMPIONSHIPS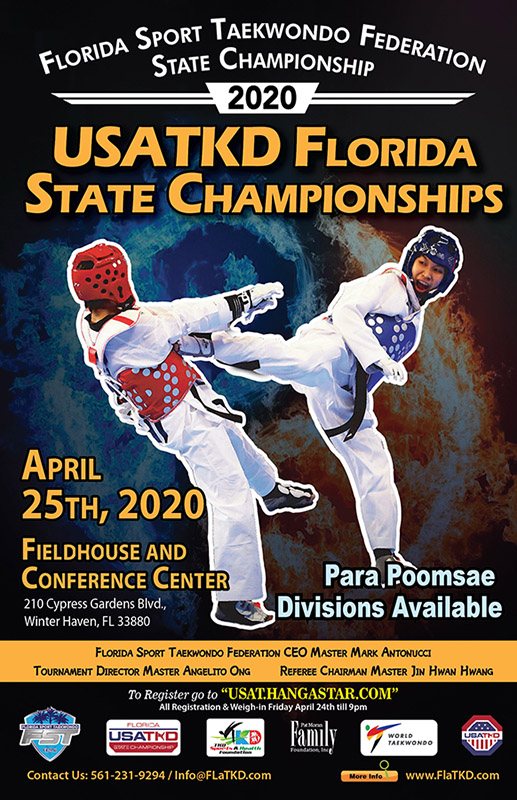 DEADLINE:
REGISTRATION DEADLINE
– Early Registration ends April 3, 2020, and Final Registration Ends April 10, 2020; As per USATKD all Registrations have to be completed 10 Business days prior to Event Date
OFFICIALS:
Tournament Director Master Angelito Ong
Referee Chairman Master Jin Hwan Hwang
President/CEO Florida Sport Taekwondo Federation, Master Mark Antonucci
(561)-231-9294 or MarkFST@FLaMartialArts.com
DATE:
April 25, 2020
REGISTRATION:
USAT.HANGASTAR.COM
Must be Current USATKD Member in good standing and US Citizen to Compete in any Black Belt World-Class Divisions
WEIGH-IN & CREDENTIAL:
Weigh-In & Credential Pickup is ONLY on Friday, April 24, 2020, from 2 pm till 9 pm
LOCATION:
AdventHealth Fieldhouse & Conference Center – 210 Cypress Gardens Blvd., Winter Haven, Florida 33880
ENTRY FEES:
Early Registration Fee $65 Main Event and $15 per each additional event and Closes April 3, 2020; Final Registration Fee $80 main event and $15 per each additional event and closes on April 10th, 2020.
COACHES:
Early Coach Registration Fee $45 and closes on April 3, 2020; Final Coach Registration Fee $65 and Closes on April 10, 2020 (Please Remember SafeSport is Due Every Year Now)
RANKS:
All age divisions recognized ranks are Yellow, Green, Blue, Red, and Black Belts (A Poom Belt is a Black Belt) Black Belts Must-Have Black V-Neck Uniform or their WT recognized Poomsae Uniform. All Color Belts Must Wear White V-Neck Uniform No Poom or Poomsae Uniforms
COMPETITOR:
All Poomsae competitors (all belts and ages) will be scored through Poomsae Pro (electronic scoring) Sparring Divisions will be using DaeDo equipment.
SPECTATORS:
General admission is $15 – except children 5 and under are free.
If you need guidance or help with booking your hotel rooms, please contact Legacy Travel's Vinny Agostino by phone at (954) 296-2247 or by email at: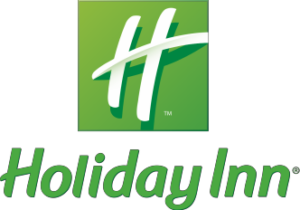 Holiday Inn Winter Haven –  200 Cypress Gardens Blvd. (Walking distance from venue)
Room Rate: $149/Night for King or Double Queen rooms
Rate Name/Code: SSG Taekwondo
Hotel Contact Number: (863)292-2100, ask for Desi Jacques if available
Deadline to Reserve: April 6, 2020
Hotel Information & Accommodations for SSG Participants: Complimentary Hot Breakfast, Complimentary WiFi, Complimentary Parking, Fitness Center, Pool, On-Site Laundry Facilities, Business Center, Refrigerator in room, Service Animals only allowed, Restaurant/Bar
Hampton Inn Winter Haven –  202 Cypress Gardens Blvd. (Walking distance from venue)
Room Rate: $149/Night for King or Double Queen rooms
Rate Name/Code: Sunshine State Taekwondo
Hotel Contact Number: (863)299-9251, ask for Stephanie Drost if available
Online Reservation Link:
https://bit.ly/2UrwXcy    (Select Dates, Click Continue, Discounted Rate Applied)
Deadline to Reserve: April 10, 2020
Hotel Information & Accommodations for SSG Participants: Complimentary Hot Breakfast, Complimentary WiFi, Complimentary Parking, Fitness Center, Pool, Laundry Services, Business Center, Refrigerator in room, Service Animals only allowed